The B100-E smart brush is a product of the manufacturer UWANT, specialist in smart cleaning. For this promotion, UWANT's handy device is going to $219 instead of $299. Discover all the features of this smart brush.
A 4-in-1 cleaning device
The UWANT B100-E is an intelligent cleaning brush that performs 4 tasks simultaneously. This innovative device sprays running water, scrubs, pumps and then absorbs water in a single pass. This versatility allows for effective and fast cleaning.
This device is a practical solution that can validly replace traditional cleaning methods. Indeed, the latter require time and physical effort, but their results are not very precise.
Deep cleaning then quick drying
The motor of the UWANT B100-E is credited with a maximum suction power of 12 Kpa which eliminates the deepest stains. In addition, the brush incorporates two levels of suction power. This design makes it possible in particular to clean stains in depth in addition to those which are visible on the surface.
With the UWANT B100-E brush, the cleaning step is directly followed by water absorption and drying. We thus obtain a complete result in a few moments.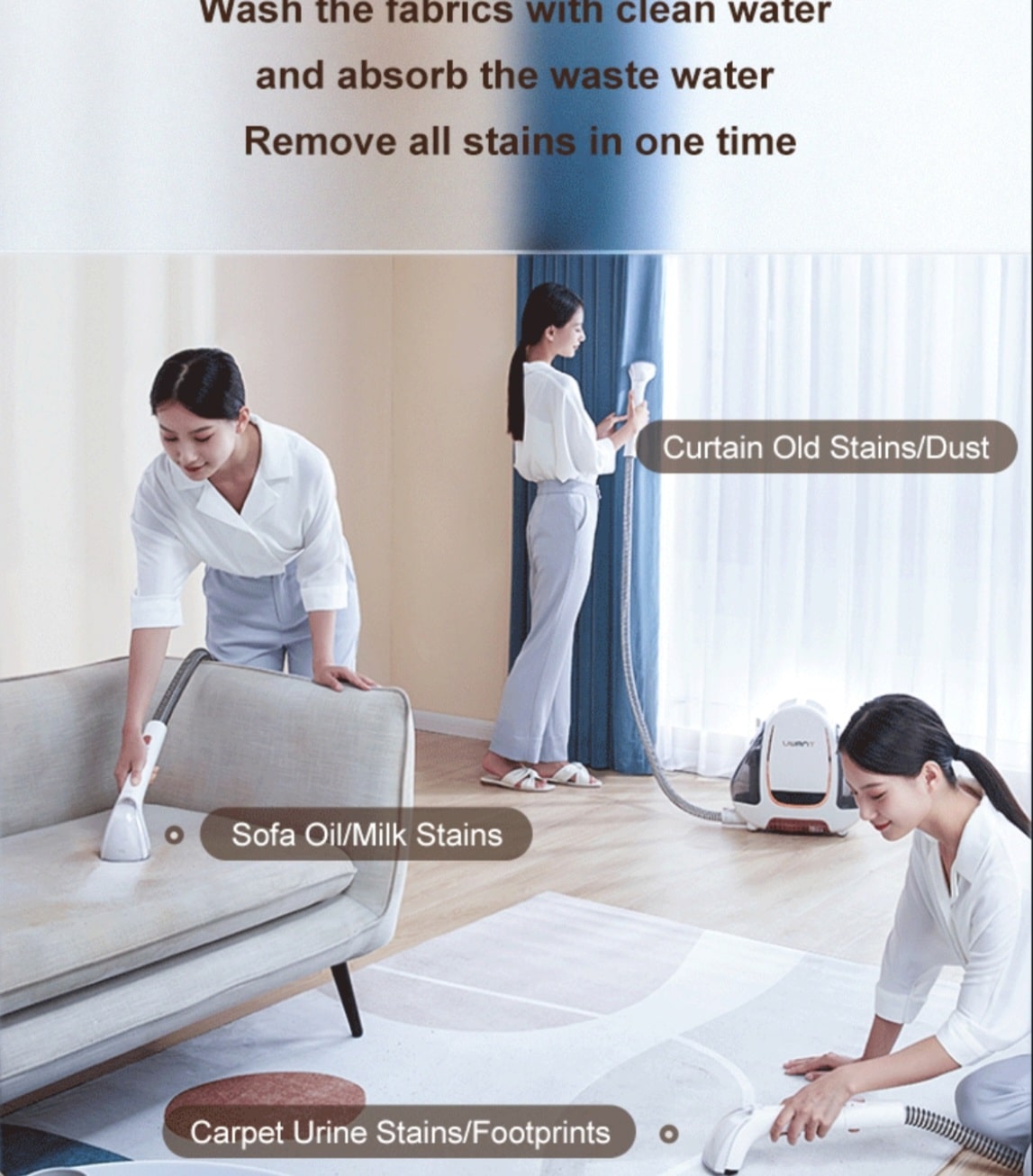 A self-cleaning design
The UWANT B100-E brush takes care of its own maintenance. It has in fact a patented self-cleaning design. This will save you from enduring unpleasant odors that can result from bacteria buildup in the ducts. The self-cleaning design also gets rid of any stains inside the unit.
To perform maintenance on this smart brush, all you have to do is press and hold the self-cleaning button. The device then proceeds to the automatic rinsing of the brush and the pipe using clean water.
Practical use
Using the UWANT B100-E cleaner will not cause you any difficulty. The device adopts a flexible design which makes cleaning convenient. It is in fact equipped with universal wheels that facilitate the movement of the main unit 360° on all surfaces.
In addition to its ease of movement, the UWANT B100-E brush has two large tanks. One can contain clean water up to 1800 ML while the second is a waste water tank with a volume of 1600 ML. These tanks are precisely designed to save you from frequently adding or spilling water during cleaning.
The practical aspect of this intelligent brush is also noticeable at the level of the power cord. To avoid tangling problems, this 5 meter cable is stored neatly in the main unit of the device. To access it, all you have to do is press the Wind Up button available on the back.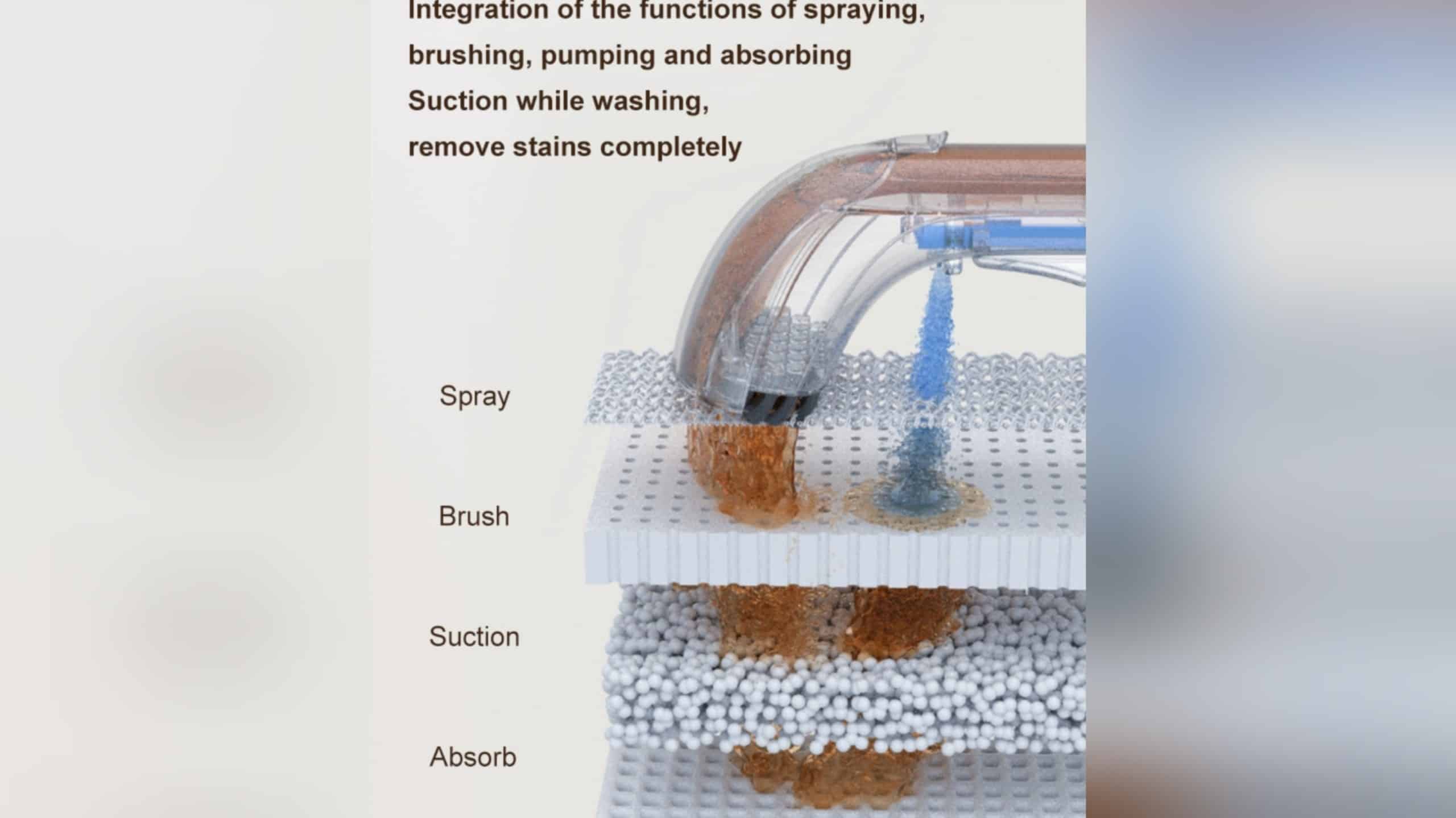 On which surfaces can the UWANT B100-E brush be used?
The UWANT B100-E brush is a versatile device that can clean stains on different kinds of surfaces. It can be used on fabric sofas, rugs, mattresses, sheets, curtains, stuffed toys, down jackets, car seat cushions or ottomans.
This smart brush will also allow you to fight different types of stains; whether classic or unusual. It could be urine stains or pet hair. The UWANT B100-E is also an ideal device for removing bloodstains and dust.
Take this great opportunity to get this brush that will spare you traditional cleaning methods that are exhausting, inefficient and sometimes expensive. After ordering, the product will be delivered to you from a local warehouse. In the event of a problem, UWANT has a close and responsive after-sales service.