In 2020, Golden Kamui had delivered its third season to us. The anime that follows Saichi Sugimoto's road to gold has not finished revealing all its secrets to us. A season 4 was therefore essential. Fortunately, the production team thought of continuing the anime, providing us with several details. Find in this file, everything you need to know before starting season 4 of Golden Kamui.
Saichi Sugimoto and his crew's quest for gold is not about to end. In season 3, the group had to face new challenges: revelations, betrayals and fights put them to the test.
The release date of season 4
Golden Kamui was launched in anime from 2018. Subsequently, it had a second season always in 2018, then a third in 2020. But since 2020, we had no news of the sequel. Towards the end of 2021, the anime's return with a fourth season was confirmed.
In March 2022, during Anime Japan, we had more details on this return. Thus, season 4 of Golden Kamui will be available for streaming from October 2022. We have also taken note of certain modifications at the level of the production team.
The visuals of season 4
For this fourth season, some visuals have already been released.
Check out the Golden Kamui season 4 trailers:
The official image of season 4:
Synopsis of Golden Kamui season 4
Season 3 ended with several storylines. Despite Ashirpa shooting Ogata, she and Sugimoto managed to get him to a doctor. But the sniper is well aware that he can no longer have his old companions through feelings. So he fled.
But that is far from blunting the spirit of our troop. Sugimoto always has his gold in mind. However, he vows to kill Ogata the next time their paths cross. As for Ashirpa, she hopes to find answers about her father's death. Accompanied by Koito, Enonoka, Cikapasi, Tanigaki, Tsukishima and Shiraishi, the two friends are back on the road to Hokkaido.
The number of episodes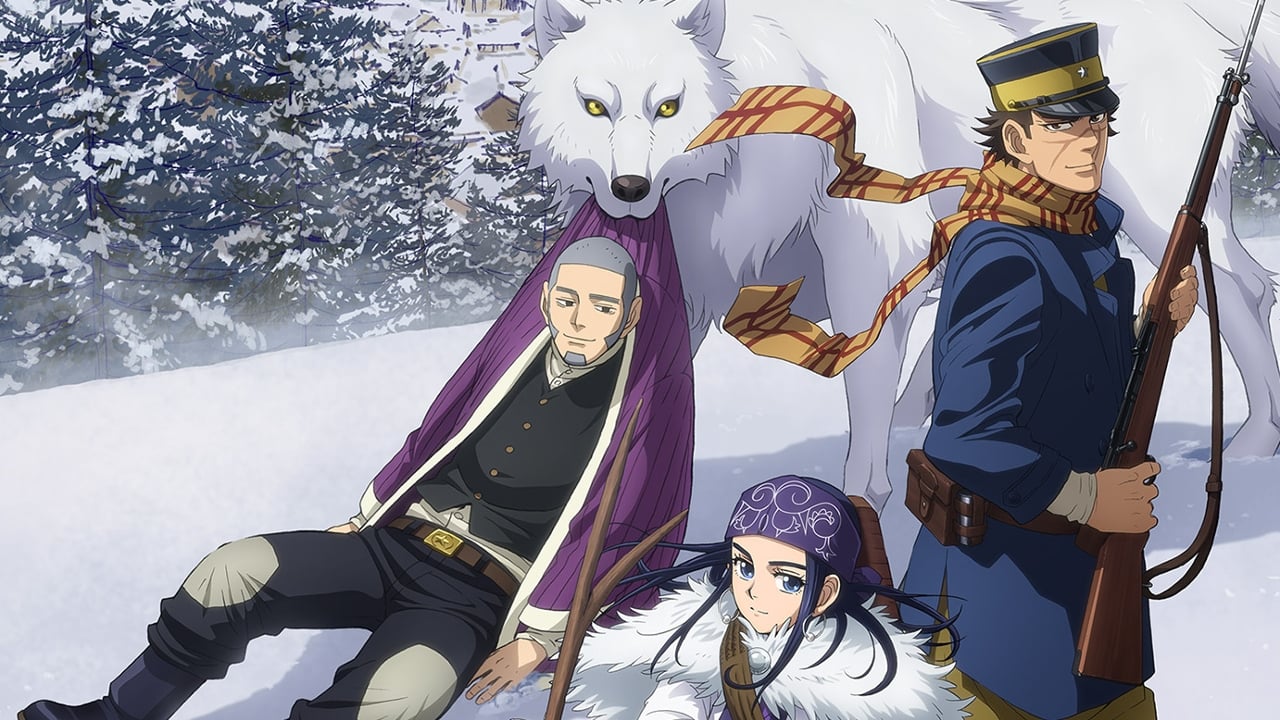 The first three seasons of Golden Kamui each had twelve episodes of approximately 24 minutes. The fourth season will follow the same pattern. For the moment, the titles of these episodes have not yet been revealed.
While waiting to reconnect with season 4 of Golden Kamui, update your knowledge by following the first three seasons in streaming on Crunchyroll.
Season 1 :
Episode 1: Wen Kamui
Episode 2: The Faceless
Episode 3: Kamui Moshir
Episode 4: Angel of Death
Episode 5: The bet
Episode 6: The Soul of the Hunter
Episode 7: Complication
Episode 8: Killer Eyes
Episode 9: Dazzling
Episode 10: Reinforcement
Episode 11: See you tonight at the hotel of death!
Episode 12: The Lying Fox
Season 2 :
Episode 1: My Little Edogai
Episode 2: Counterfeits
Episode 3: Let's talk about the good old days
Episode 4: Storming the 7th Division!
Episode 5: In the Belly
Episode 6: Memories of Ani
Episode 7: Kamui-hopunire
Episode 8: Blue Eyes
Episode 9: The Sound of the Assault
Episode 10: New Moon Night
Episode 11: Trampling
Episode 12: Agreement
Season 3:
Episode 1: Direction Sakhalin
Episode 2: Suchenka
Episode 3: Igogusa
Episode 4: The Immortal Sugimoto Harakiri Show
Episode 5: Border
Episode 6: Bad Omen
Episode 7: Meko-oyashi
Episode 8: The Executioner
Episode 9: Revolutionaries
Episode 10: He Who Pursues Wolves
Episode 11: Sin and Impurity
Episode 12: Live
READ ALSO : To your Eternity season 2: Release date, plot and trailer – All the news
The production team
Golden Kamui is the adaptation of a seinen of the same name, from the mangaka Satoru Noda. Distributed by Shueisan in Japan, the manga is available from Ki-oon editions in France. Created in 2014, the manga immerses us in action, self-knowledge and drama, with a hint of comedy. For its fourth season, the animation studio was changed. Geno Studio hands over to Brain's Base (in charge of the production of season 2 of To Your Eternity). New creators will also join this adventure. It is :
Chief Director: Shizutaka Sugahara
Screenplay: Noboru Takagi
Chara Design: Takumi Yamakawa
Music: Kenichiro Suehiro
Characters and voice actors
Saichi Sugimoto as Chikahiro Kobayashi
Ashirpa: Haruka Shiraishi
Shinpachi Nagakura: Takayuki Sugo
Kano Ienaga as Sayaka Ohara
Yoshitake Shiraishi: Kentaro Ito
Tokushirou Tsurumi: Hochu Otsuka
Hyakunosuke Ogata: Kenjiro Tsuda
Genjirou Tanigaki as Yoshimasa Hosoya
Kiroranke: Masaki Terasoma
Toshizou Hijikata as Joji Nakata
Kohei Nikaido: Tomokazu Sugita
Tatsuuma Ushiyama: Kenji Nomura
Inkarmat: Mamiko Noto
Hajime Tsukishima: Eiji Takemoto
Otonoshin Koito: Katsuyuki Konishi
The fourth season will also have a new character in the person of Fusatarô Ôsawa. This is a serial killer whose method is to drown his victims. It is the seiyu Tomokazu Seki Mizunaka who will double him.
The plot of Golden Kamui
We are at the beginning of the 20th century, more precisely after the Russo-Japanese war of 1904-1905. Saichi Sugimoto nicknamed "the Immortal" is a war veteran. During this, he was part of the 1st Division of the Imperial Japanese Army, and participated in the bloodiest battles, including that of Hill 203. A true survivor of these horrors, he was given the nickname "the Immortal". ". But it will not be the case of his best friend Toraji who lost his life.
Before dying, he makes her promise to take care of his wife. Once the war is over, Sugimoto finds himself alone, without a plan for the future and above all without money. All he had in memory of his glorious past were scars streaking his body and face, his military clothes, his rifle and his Type 30 bayonet.
By a curious coincidence, the former soldier learns of the existence of the treasure of 75 kilos of gold from the Ainu people. Wanting to respect his word given to his best friend, Sugimoto goes in search of the famous treasure. So he goes to the island of Hokkaido in the hope of collecting clues. While he is only at the beginning of his research, he is attacked by a brown bear. Chance doing things well, the soldier is saved by Ashirpa, a young Ainu strangely linked to gold. Together, they will team up to find the Ainu gold.