On many Android phones, you can turn off your screen by double-tapping the home screen. Since the mobile phone is also locked, this is an important gesture for the security of your data. I just discovered this gesture and like a Cro-Magnon discovering fire, I think it's just awesome.
We all know by now that cell phones can be controlled by tapping them on the back. Many mobile phones from the manufacturers Apple and Xiaomi support the back-tap function – but wondrous things also happen when you tap on the display.
I found the "Double tap to turn off the display" option during my testing time with the Nothing Phone (1). This feature allows you to turn off the screen of your smartphone and thus lock the smartphone by double tapping it from the home screen.
On my Nothing Phone (1) the steps are as follows:
Typing long on yours home screen.
Taps Home screen settings.
Activates the option Double tap to turn off the display.
The function is also available from many other manufacturers such as Samsung and Xiaomi. In One UI 4, the feature is enabled by default, but here are the steps anyway:
Go to the settings and then to Advanced features.
go to movements and gestures.
Activates the option Double tap to turn off.
In MIUI, the only difference is that double tapping is only possible from the lock screen. Basically, the function only serves to wake up the screen or turn it off when it's locked, for example to show Always On Display. Here are the steps you need to take:
Go to the settings.
goes up Always show and lock screen (kudos to Xiaomi for the translation, really).
Activates the option Press twice to wake up or turn off the screen when the device is locked.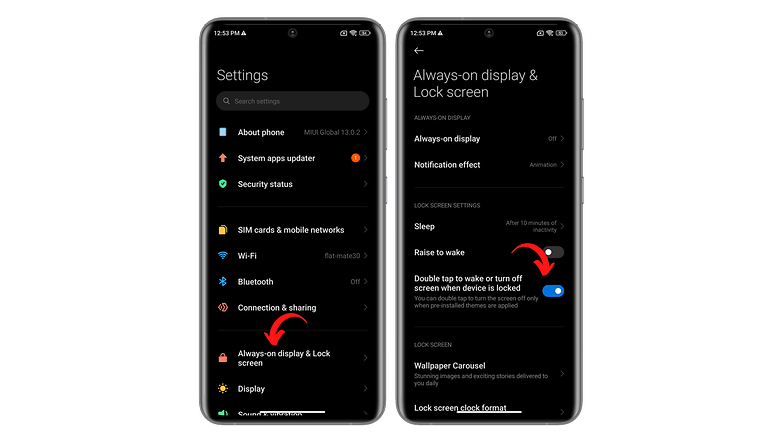 So much for this short tutorial on the handy double-tap gesture on your phone. What do you think of this function? Am I completely ignorant because I'm just now discovering this feature?